The use of technologies to create enhanced visceral theatre has a history ranging from the 18thC Phantasmagoria using the magic lantern (an early form of image projection), through to the Futurist's SyntheticTheatre of 1915 and the more recent productions using the relatively new technologies of digital computing, projection and sensing.
It appears that contemporary dance has embraced the new technologies more so than theatre and currently continues to do so. Perhaps the form offers more freedom and scope for abstraction than the traditional theatre.
Perhaps it is the traditonal nature of theatre with its teams of actors, directors, playrights and scenographers that restrain the experimental, and only in the smaller companies we see innovation and an embrace of contemporary technology as a means of creative expression. Theatrical productions that do break the traditional mould are led by visionary directors or work with visionary scenographers
Josef Svoboda (1920-2002) produced some of the first early dynamic uses of kinetic scenography using moving sets, lighting, electronics, mirrors, film and slide projections. His vision was that the stage should marry with the psycho dynamics of the dramatic space, it should change in response to the drama and not be a static backdrop. One of his early works was created in 1958, when he and director Alfred Radok developed Laterna Magika, which combined live action and filmed sequences for Expo 58 in Brussels.
A more contemporary figure is Robert Lepage who in 1994 founded the ground breaking company Ex Machina.
"Ex Machina's creative team believes that the performing arts – dance, opera, music – should be mixed with recorded arts – filmmaking, video art and multimedia. That there must be meetings between scientists and playwrights, between set painters and architects, and between artists from Québec and the rest of the world."
Unlike theatre, performance art and the interactive arts have pushed the boundaries of what is possible from the earliest experiments with computers in the 1960's to the present day. Experimental artists have embraced a wide range of technologies, electronics, computers, video, telepresence, robotics, sensing, writing software and algorithms; and in doing so, produced new media and new experiences.
In the early 21st century computer gaming and theatre appear to be intersecting, Punch Drunk (est. 2000) create immersive game like forms of participatory theatre whilst Blast Theory (est. 1991) have produced a number of urban outdoor theatrical experiences using mobile technologies.
Digital Theatre
Digital Theatre describes the combining of multimodal digital technology including interactivity, audio and projection with theatre – an audience a stage and a set and actors.
Its history is relatively recent, perhaps dating from around 1985, when computers and data projectors were first becoming relatively accessible by artistic creators. The history of interactive computer art dates back further, harking back to the 60;s with Cybernetic Serendipity in 1968. However one of the earliest innovative interactive live performance art works using projection and digital computers I believe is Videoplace by Myron Kreuger (1989).
The website, Digital Theater A Historical Survey by Casey Caldwell documents a number of a key and influential theatrical productions that use multimodal technologies, dating from 1980 through to 2012.
Casey cites the work of Julie Martin with her Virtual Reality Theatre Company as being "one of the first directors to take advantage of new media and technological opportunities for use on the stage. Her production of Shakespeare's A Midsummer Night's Dream in 1990 used new forms of media and projection to create a unique space that the play had never been performed in before."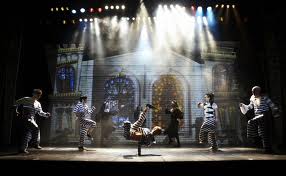 The ubiquitous accessibility and availability of technology, creative tools and open source platforms have resulted in an ever expanding foray and the blending of boundaries across disciplines, media and art forms.
The Contemporary Research section serves to document the continuing development of cross disciplinary research melding computer gaming, theatre and performance, interactivity and improvisation.