As part of the CDT module requirements, we are required to undertake an internship. For most students the internship provides a means of gaining industrial work experience, however as a mature student I had already gained many years experience working in industry, having been both employed and self-employed, working in partnership and a director of a start-up (see background for more details).
An opportunity of applying for a position of "STEAM Maker In Residence" at Derby Silk Mill presented itself to me – this offered something completely different and challenging, enabling the development of a whole new set of skills.
STEAM represents a multidisciplinary approach to education combining Science, Technology, Engineering, Art and Mathematics.
Having a hybrid educational background, with a degree in Computers and Cybernetics and an MA in Fine Art, I found a great deal of resonance with the STEAM initiative, "a movement championed by Rhode Island School of Design."
The following is a report of my experience, with links to the Tumblr documentation we were asked to carry out as a means of recording the residency.
Reflection on Internship G54INT

Richard Brown, Maker In Residence, Derby Silk Mill.
Period: 16/1/2015 – 9/5/2015.
Introduction
 I was forwarded an advert for STEAM (Science, Technology, Engineering, Art and Mathematics) Makers in Residence at Derby Silk Mill by a colleague. After applying, I was invited for an interview on the 14th October 2014 and shortly after, offered the position alongside four other makers.
We had our first meeting at the Silk Mill on 13/11/2015 where we met staff, the other makers and given a presentation of the Silk Mill's vision and aims, including notions of remaking the museum and becoming "a museum of the future". ( http://remakemuseum.tumblr.com/ )
The aim of the residency was outlined, where we were to produce a kit of parts which would enable visitors to be able to experience making within the museum, a methodology designed to produce a form of engagement, creativity and learning, not possible through the standard museum practise of looking or interacting with museum objects.
After some negotiation between the makers and the Silk Mill, a contract for the residency was agreed and signed on 27/11/201 where we all met for an ideation day led by Andrea Mercer who managed the residency.
A google drive was set up by the Silk Mill to enable all the makers to share documents and ideas and on 9/12/2014 a group Tumblr website initiated to enable collaborative publishing of the residency as it progressed.
http://instituteofsteam.tumblr.com/
Inspired by my visit to the Silk Mill collection on the 13/1/2015, I posted my initial ideas for the residency on the Tumblr site (19/1/2015):
http://electricsteam.tumblr.com/post/108566196719/steam-residency-inspirations
I wanted to create both an installation and for my kit of parts enable families to learn electronics through making. In order to achieve these aims I spent a great deal of time researching the operation and history of the Strowger Switch from the collection and ascertaining the appropriate off-the-shelf kits that would form the basis of my hands on workshops and my kit of parts.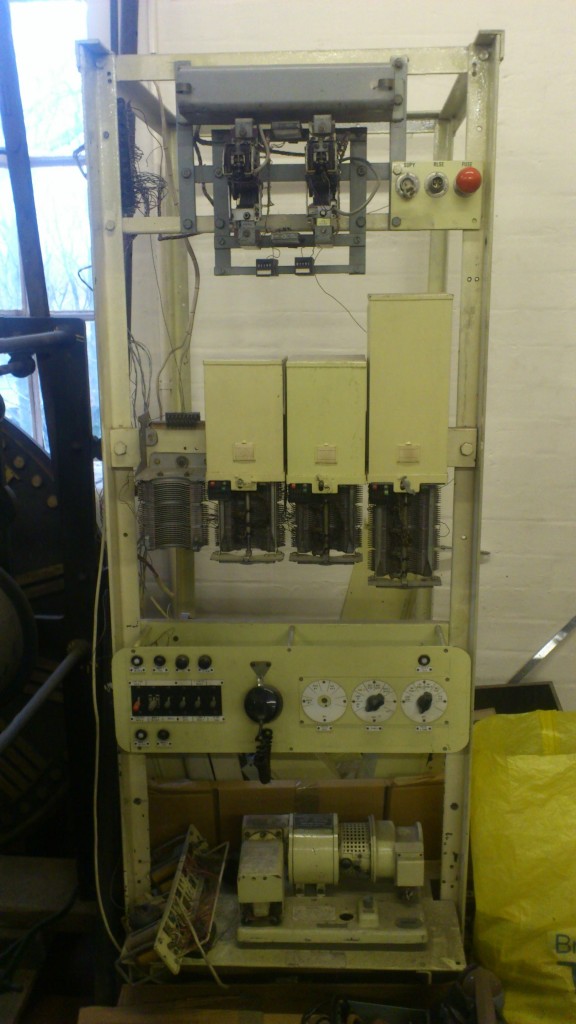 (Strowger Switch Assembly)
The Experience
 I enjoyed the internship for many reasons, these are listed below, in no particular order:
i) Meeting and working alongside other makers.
ii) Working in an a historical Museum with an Industrial Heritage
iii) Working with Museum curators who embraced the STEAM initiative with visions for creating a new museum of the future which embraced making within the community.
iv) Running workshops with the public, seeing children and parents gain both pleasure and knowledge from building working electronic circuits.
v) Producing two interactive exhibits and using the Silk Mill workshop facilities with support from the workshop manager.
vi) Bringing to life artefacts from the collection which would otherwise be gathering dust and invisible to the public.
vii) Being publicised in the museum's brochure and online via the Silk Mill's Tumblr social media website.
viii) Being in a different non-academic environment working to real life agendas and timescales.
iv) Practical applied making of physical objects, working with my hands, problem solving, electronics and building.
In addition because this was a completely new project for the museum involving a group of makers with differing backgrounds and skill sets, there was much learning for both the museum and the makers. What exactly was a kit of parts? What were the practicalities and problems of creating and installing exhibition pieces in a museum with ever changing exhibitions, tight budgets and demanding deadlines? How might we collaborate and work at a distance using electronic communications?
In conclusion I was challenged by the residency me and found myself acquiring new skills in completely new areas, especially people skills – communicating and working with the public, working with children and negotiating with museum staff who at times were under pressure due to exhibition demands, deadlines and financial constraints.
The two interactive pieces I created are currently (2/6/2015) on display at the museum and are proving popular with the public.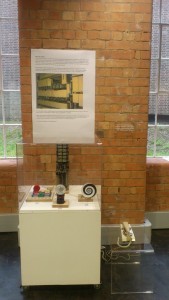 The electronic workshops proved extremely popular and can now be run independently without my being there.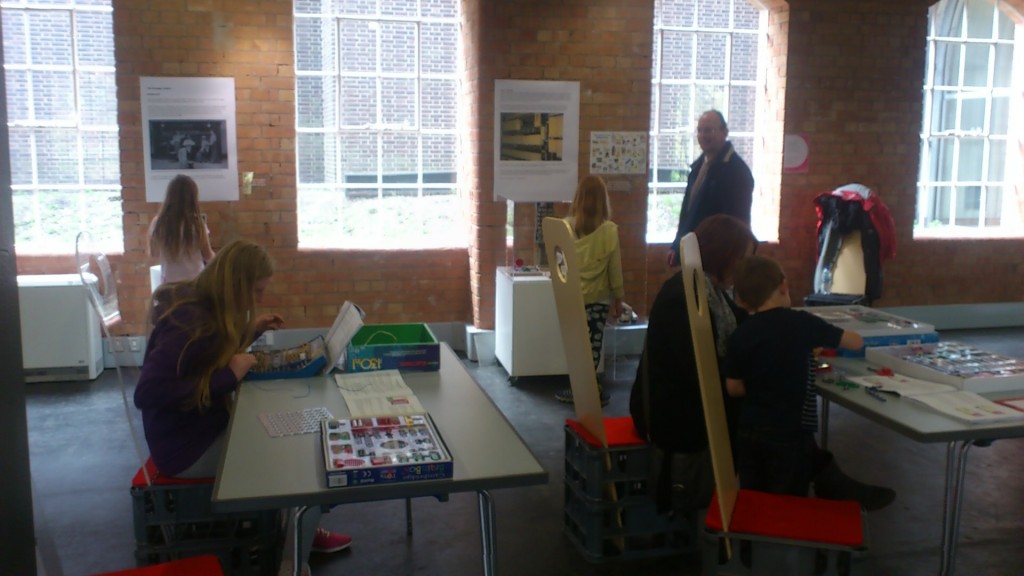 The future for the Silk Mill is looking extremely bright as on the 20th May 2015 it was announced that "Derby Museums has received earmarked funding* for a £9.38m bid from the Heritage Lottery Fund (HLF) for the Derby Silk Mill – Museum of Making project"
http://www.derby.gov.uk/whats-happening-in-derby/news/silk-mill-hlf/