I am looking for people with an interest in performance practise
who would like to attend a short workshop designed to assess
the potential of a prototype interactive projective character system.
The system enables a performer wearing a white bodysuit and video glasses to see themselves overlaid with a projection of a virtual
character that closely mirrors their movements.
The visual feedback of the projected character mapping has the effect of immersively transforming the performer into another character.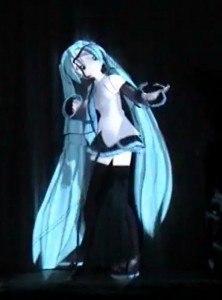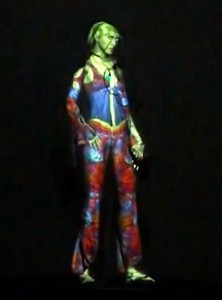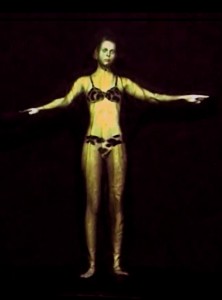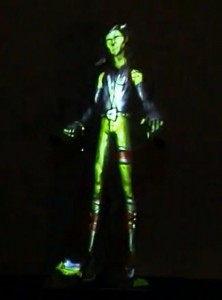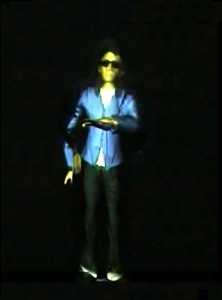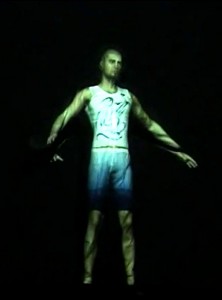 Character projections from video documentation
The workshop will enable performers to try out the system and watch others interacting with the system. The aim of the workshop is to obtain critical feedback on the viability of the system and its future potential in performance. Documentation of the  system can be seen seen on the research blog.
Workshops will run between Monday April 14th and Friday 18th of April. It is envisaged each workshop will consist of 2-4 people and last approximately 1 hour. Workshop slots will be 10.00am, 12.00pm, 2pm and 4pm.  There may also be the possibility of scheduling a later workshop at around 6pm if this is more convenient for participants.
The workshops will take place at Nottingham University in the Mixed Reality Lab, 1st Floor, Computer Science Building on the Jubilee Campus. (Building 4 on PDF Map)
If you are interested in participating please contact me using the form below and let me know the dates and times you are available.
For research purposes, audio recordings will be made of discussions during the workshop. Participants will be required to sign a University Ethics Clearance form to allow me to record audio of the conversations. The audio will be used to enable me to write a research report of my findings, all participants will remain anonymous and no names will be used in any publications. Any photographs or video documentation will only be taken with the participant's permission.
Many thanks,
Richard Brown