I saw this mesmerising, rich and disturbing production of George Orwell's 1984 by Headlong theatre company last week at the Nottingham Playhouse.
What I especially enjoyed was the blurring of time (and space), making the temporal location both present, historical and futuristic. Were the actors discussing the book from a future beyond now, were we revisiting a fictional past, and in the moments of unfolding was it a critique of the present?
The production managed not only to bring the fictional 1984 to convincing life with an atmosphere of the past but at the same time referenced the modern, the current concerns over privacy and Big Brother – the reality TV program, data mining and the omnipotent eye of the State.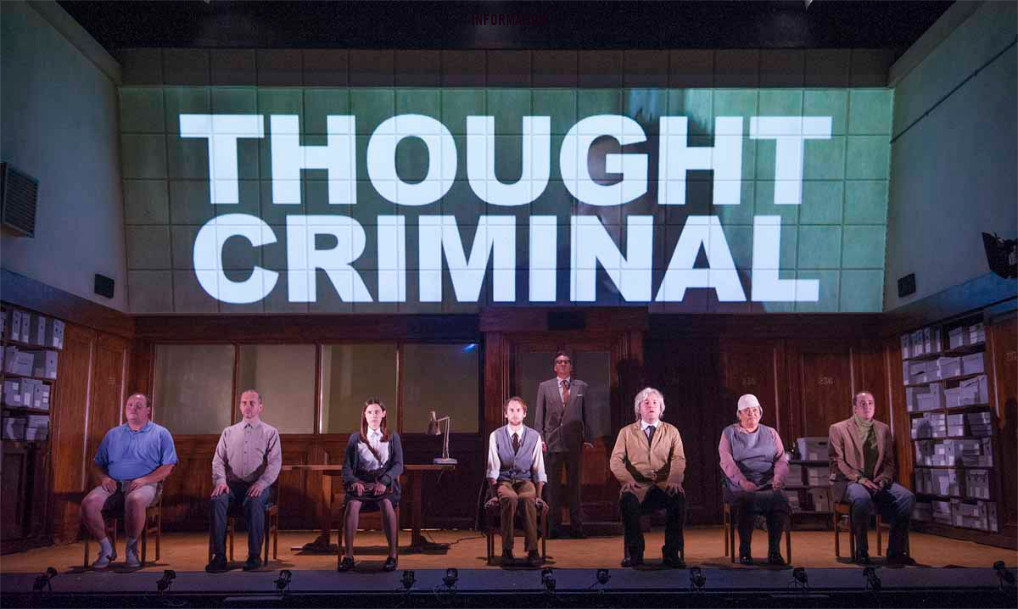 Technology was used sparingly and with good effect, expanding the dimensions of the physical space of the set. A video projection along the top tiled wall was used at times as a live camera feed, giving us close ups on Winston's diary as he wrote, at other times giving us a window into hidden spaces – the love nest of Julia and Winston. Tightly synchronised bursts of light and sound changed the atmosphere, creating a sense of instability and fracturing realities.
The discovery of the love nest resulted in an invasion of the riot police, tilting chaotic back projections, roving flash-lights, noise and walkie talkie sounds as the set was dismantled and removed, with Julia being transported elsewhere. The resulting brightly lit white stage set, room 101, with two rows of guards wearing modern chemical warfare outfits created an atmosphere of foreboding and dread as Winston was brought in and sat down centre stage accompanied by the suited interrogator Big Brother himself.The subsequent torture scenes were shocking and incredibly effective and the contemporary scenography made these moments feel disturbingly present.